In this section
Stay in Touch
Join our email list and stay informed about important news and upcoming events.

donate online
How to Organize Politically
It is often stated that the Portuguese do not vote. However, for more than a decade, the Portuguese American Citizenship Project has been working closely with organizations in communities within Rhode Island, Massachusetts, New Jersey, Connecticut, and California. Analyses of the Project's work demonstrate that, within the communities where the Portuguese American Citizenship Project has worked with local organizations, the Portuguese American group often represents the largest collection of registered voters in local jurisdictions and they actually vote at a higher rate than the general population.
So, what is the secret to organizing a local church or club and making the political community take notice of the concerns of the organization's members? There is no secret! It is simply a straightforward process that has been refined over the years and become very effective in maximizing the civic participation of the members of organizations that choose to collaborate with the Portuguese American Citizenship Project.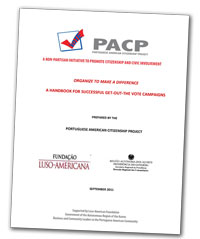 The process utilized by the Portuguese American Citizenship Project to assist organizations interested in encouraging their members to exercise their political rights is described in our handbook titled Organize to Make a Difference: A Handbook for Successful Get-Out-The-Vote Campaigns. This handbook introduces a systematic course that provides measurable results. It is important to emphasize that, to be successful, these efforts cannot be a one-election event, but have to form a long-standing structure to mobilize voters and establish a dialogue with candidates for political office for every election. This process is more like a marathon than a sprint.
The analogy of a recipe book may be appropriate. The main difference is that, if you follow the recipe in this handbook, instead of ending up with a delicious meal, you will end up with an empowered community that is fully aware of its political rights, and consistently exercises those rights.
Although we are convinced the steps described in this document are a recipe for political success, we need to be reminded of the words of Tip O'Neil, "All politics is local." Therefore, what works in one community may have to be adapted to work in another community. It is evident that the members of each organization know what will work best within their community.
In addition to offering the information in this handbook, the Portuguese American Citizenship Project is ready to collaborate with and assist organizations interested in developing and implementing get-out-the-vote campaigns. For more information, contact the Project Coordinator.
Download Organize to Make a Difference: A Handbook for Successful Get-Out-The-Vote Campaigns